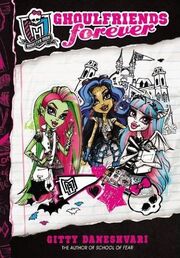 Ghoulfriends Forever
, written by Gitty Daneshvari, is about Venus Mcflytrap, Robecca Steam, and Rochelle Goyle and their friendship at Monster High. The book was released on September 5, 2012. A sequel, titled Ghoulfriends Just Wanna Have Fun, is planned for Spring 2013
Book Details
Edit
The Ghoulfriends series was first heard of on April 17, 2012 through Amazon, where the first book was put up. Unlike Lisi Harrison's series, this book series is aimed at middle-grade students rather than teens, and is set in the more familiar Monster High universe described in the webisodes. It also focuses on the lives of new students Venus McFlytrap, Robecca Steam and Rochelle Goyle rather than the main ghouls. Also, Melody Carver and characters established in Lisi's series do not appear.
New students Rochelle Goyle, Robecca Steam, and Venus McFlytrap must navigate the bewildering array of cute monster boys, established cliques, and monster-rific subjects like Mad Science, G-ogre-phy, and Physical Deaducation. As if that weren't hard enough, something strange and sinister seems to be happening at the school. Popular girls like Frankie Stein and Cleo de Nile are acting weird-and all signs point to everyone's new favorite teacher, Miss Sylphia Flapper. Can the new GFFs expose the fave as a fraud, or will they succumb to peer pressure?
Ad blocker interference detected!
Wikia is a free-to-use site that makes money from advertising. We have a modified experience for viewers using ad blockers

Wikia is not accessible if you've made further modifications. Remove the custom ad blocker rule(s) and the page will load as expected.